Happy International Women's Day to all of you leading ladies out there!
I'm excited that the first review of this blog is for a book that celebrates powerful (and totally underappreciated) women from all walks of life with all sorts of incredible stories.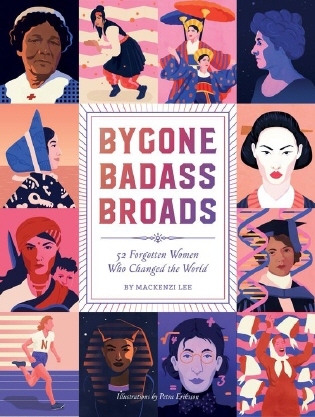 Bygone Badass Broads: 52 Forgotten Women Who Changed the World by Mackenzi Lee
Nonfiction, 176 pages
Published February 27, 2018 by Abrams Image
goodreads
|
buy
Synopsis:
Based on Mackenzi Lee's popular weekly Twitter series of the same name, Bygone Badass Broads features 52 remarkable and forgotten trailblazing women from all over the world. With tales of heroism and cunning, in-depth bios and witty storytelling, Bygone Badass Broads gives new life to these historic female pioneers. Starting in the fifth century BC and continuing to the present, the book takes a closer look at bold and inspiring women who dared to step outside the traditional gender roles of their time. Coupled with riveting illustrations and Lee's humorous and conversational storytelling style, this book is an outright celebration of the badass women who paved the way for the rest of us.
My rating:
★★★★
Have you ever heard about
Mochizuki Chiyome
, who trained young women in martial arts and espionage in a building disguised as a pharmaceutical company in sixteenth-century Japan? How about
Clelia Duel Mosher
, a doctor who was, in this book's words, a "sex-positive hulk-smasher of Victorian era female fragility"?
I sure hadn't before reading this book. And I'm kinda mad about it! Imagine if these were the stories you were told growing up!
In fact, I would compare this book to a
Good Night Stories for Rebel Girls
, but for adults. Not only are the women featured all of different places, backgrounds, and talents, but they're people even those well-versed in history will have not likely heard of. I -- while by no means well-versed in history myself -- had only heard of 2 of 52 (Ursula Nordstrom, "Publisher of Good Books for Bad Children", and Murasaki Shikibu, "The World's First Novelist," if you're wondering).
In that vein, I like how the book even includes some stories about women that we'd still find
morally questionable
(to put it mildly), like pirates and thieves! Perhaps the most striking of those is the story of
"Marm" Mandelbaum
, who ran a massive criminal operation in New York that involved buying and reselling stolen goods for profit. She even started her own school that trained crooks ("Hogwarts for Scoundrels," as the book calls it!)
Each two to four page biography has a witty, comical tone which adds a lot of enthusiasm to the girl empowerment. It made me laugh, and it made me excited about the stories. At the same time though, sometimes saying things like "because matriarchy" or "what happened is [she] freaking crushed it!" covered up a lack of detail and specificity. When paging back for stuff to include in this review, I realized that I sometimes had trouble separating fact from fiction. Did Queen Arawelo really form a matriarchy? Well she "packed her government with women," so... yes? Fact and legend tend to blend together for a lot of these stories, and, while many of the footnotes admit the limitations of what historians know for sure, I wish there was sometimes more clarity about what exactly went down!
Each biography is also accompanied by a colorful portrait by Petra Eriksson. All of them are striking and fucking fierce. I would totally order prints - especially of the more creative ones, like the one where Lady Murasaki's hair is brushstrokes of ink! However, I do feel that the art has its own limitations. A lot of the features of these women are similar, making them seem to blend together. I can see how this style of illustration is definitely more appealing for a fun gift book.
This collection of histories is both fascinating and uplifting. The humor and the striking illustrations make it easy to flip through, and the stories themselves are just incredible. I would love to know more even more about them, and perhaps because the book was so successful in keeping me enthused, I sometimes wished there were more concrete details and distinction between fact and fiction. Overall, this is a beautiful book and I feel like even taking classes upon classes about history probably wouldn't teach me about as many outstanding women as this collection does.
I would recommend it to any woman, because who couldn't use inspirational bedtime stories!
Thanks for stopping by!
Follow me on:
bloglovin' | instagram | goodreads