Hello there bookish friends!
I'm still working on that NCIBA haul! It's going to happen! ... But not today.
Instead, I'm trying out a new (to me)
meme called #CoverCrush that was created by Kelly and Christy @ Bookcrushin'!
Major shoutout to them for permitting me to try it out on my own blog and for generally being awesome bloggers.
Today's cover crush is: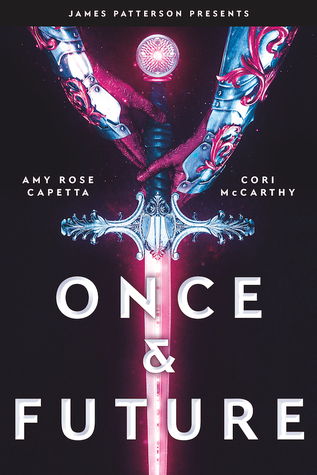 Once & Future by Amy Rose Capetta and Cori McCarthy
YA Fantasy/Retelling, 336 pages
Expected March 5, 2019 from James Patterson Presents/Little, Brown
add to goodreads
While I am semi-hesitant about this James Patterson imprint, I am ALL ABOUT this cover. It reminds me a bit of the
Cinder
cover since it has a mechanical/sci-fi twist. I love the unexpected neon pink accents to a high-fantasy/historical set-up. But also: it's a gender-bent retelling of the Arthurian story,
The Once and Future King
, so yes please to all of it.
Has this made any of your TBRs? What do you think of the design? Let me know below!