Hello, lovely bookish friends!
Apparently, I've been taking an unintended break from blogging and bookstagram lately -- I think I need to come to terms with the fact that I have a love/hate relationship with the social internet and I'll never be the world's most consistent poster -- but October holds so much bookish excitement for me that I can't help but want to share it.
Firstly,
Misty at The Book Rat
is hosting another
#30DayBookBinge
a.k.a. the most low stress but high results read-a-thon I have ever participated in.
The idea is just to read every day.
That's it. It doesn't matter how long you spend reading or how many books you finish. The idea is to build good reading habits -- let's be real, that's how the reading really gets done.
Also: there are PRINTABLES!!
As for my reading plans, I'm trying to be realistic and keep my TBR fairly flexible. Here are my core reading goals... and the gaps will surely be filled with impulse reads and children's books (I am a children's bookseller after all):
October TBR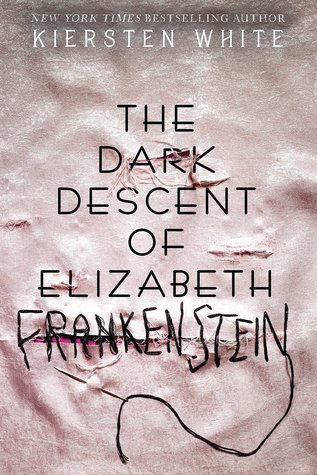 The Dark Descent of Elizabeth Frankenstein by Kiersten White
YA Historical Fantasy/Retelling, 304 pages
Published September 25, 2018 by Delacorte Press
I have been reading Kiersten White since 2011 and this is probably the most excited I've been for one of her books since
Paranormalcy
. I had the pleasure of meeting her yesterday and OMG is she incredibly smart and funny. One of the most interesting things about this gender swapped Frankenstein retelling is that Kiersten White said she wanted to examine the way people will support social systems that are harmful to them, but still protect them more than other people. (I'm paraphrasing -- she said it better). Sounds super relevant and also just perfect for Fall.
Crime/Mystery, 656 pages
Published September 18, 2018 by Little, Brown Book Group
I'm currently listening to the audiobook of this (as I have with the prior books in the series) and I'm thoroughly enjoying it. J.K. Rowling is such a talented and recognizable writer even outisde of the Harry Potter books. I will always be a fan and a reader. Also: Robin is my favorite character for sure.
19th Century Gothic/Classic, 624 pages (my edition)
Originally published October 16, 1847 (Public Domain)
I have made it through 17 years of school without reading this. Which is a shame, because if my appreciation of Jane Austen and Wuthering Heights is any indication, I will probably love it. I am generally intimidated by reading classics on my own... It's much easier to pick up YA. But if I want to read more widely, then I just have to dive in. Wish me luck!
YEP, THAT'S THE END OF MY TBR.
But, because there are so many other books on my mind, here are a few more that I'm considering for the gaps:
There is so much more I want to talk about this month. Like the NCIBA booksellers conference this week, the authors I'm planning to meet this month, what I read since July (amazing things), some things about being a children's bookseller, and even what bookish candles I'm obsessed with... so hopefully that will all be coming soon!
Let me know what you're planning on reading this month, and if you're participating in any read-a-thons or challenges!
Happy Reading!