Hello bookish friends!
September was a month that happened. Is it just me that feels like it happened in the blink of an eye? I didn't get a lot of reading done, but I did enjoy what I read!
Books I read in September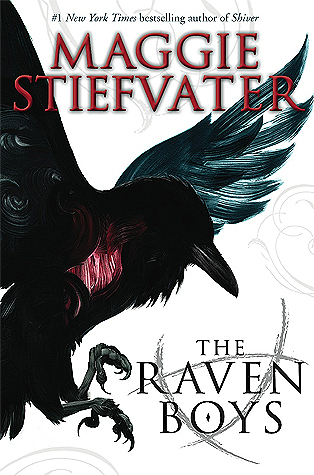 The Raven Boys by Maggie Stiefvater
YA Fantasy, 409 pages
Published September 18, 2012 by Scholastic
add to goodreads
My rating:
★
★
★
★
★
This one was a re-read. A third read, actually. Maggie Stiefvater is one of my favorite YA authors, if not my very favorite, and The Raven Boys is like her masterwork (in my opinion). My goal is to FINISH the series this year finally, since I have never read book four.
An Enchantment of Ravens by Margaret Rogerson
YA Fantasy, 300 pages
Published September 26, 2017 by Maragaret K. McElderry
add to goodreads
My rating:
★
★
★
Looking back, it's weird that I gave this 3 stars because I really like it in retrospect. The writing was beautiful and immersive, even though I didn't expect the plot to be so romance focused. Here's what I wrote on goodreads:
Enchanting is really a good word for this one. From the beginning I was gripped by the lush prose and intrigued the the characters - a vain faerie; a clever, level-headed portrait artist; her two sisters (who used to be goats). And the world this book created is so enchanting that I want to linger in it after finishing.





However, once the plot kicked off, I was a little disappointed. First because there was a lot of forest wandering that felt like it would never end. There was also a fair bit of instalove that turned level-headed Isobel into an irrational Bella Swann. I liked Rook, the love interest, but the story was much more romance-focused than I expected.





I ended up enjoying this book but I feel like it lost some of its charm along the way. That said, I really lost myself in it and would read more if it existed... and i definitely think that Margaret Rogerson is one to watch!
The Size of the Truth by Andrew Smith
MG Contemporary, 272 pages
Expected March 26, 2019 from Simon & Schuster
add to goodreads
My rating:
★
★
★
★
I didn't really mean to read this, but once I took I peek, I got hooked and didn't want to put it down. This one is about Sam Abernathy (Ryan Dean's roommate in Winger!) who wants to enter a cook-off competition and go to culinary school even though his dad wants him to go to MIT. It's also him remembering what happened when he fell down a well for three days. It's also about getting to know people you judge poorly. It's also just really sweet and heartwarming, with a touch of Andrew Smith's signature quirk but not an overwhelming amount of weirdness. I can't wait for this one to release so I can push it on all the middle grade readers at the store!
Kid Lit of September
In case you missed it, I made a post about being a children's bookseller and how I want to share some kid lit on my blog! It will be secondary to my main not-work-related reading, but I will share some in my wrap ups!
Sophie Mouse #1: A New Friend by Poppy Green
Chapter Book Series, 119 pages
Published January, 2015 by Little Simon
add to goodreads
My rating:
★
★
★
★
This story is super friendly and cute. It's
hard not to admire Sophie as she faces her fears all whilst remaining gentle and kind. The illustrations are soft and inviting. I would recommend it to kids starting school!
Desmond Cole Ghost Patrol #4: Night of the Zombie Zookeeper by Andres Miedoso
Chapter Book Series, 128 pages
Published July 24, 2018 by Little Simon
add to goodreads
My rating:
★
★
★
This is the
perfect series for Halloween time, and there are plenty of illustrations. It's nice to see two POC as the protagonists of the story (but note Andres is the narrator, not Desmond!)
That's it for me! What did you read this month? Feel free to link to your wrap up posts below!
Thanks for stopping by!